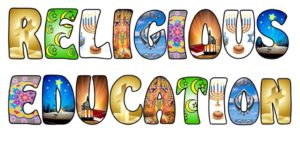 It is the mission of the St. Maximilian Kolbe Parish Religious Education Program to instruct the children and adults of this parish in the teachings and traditions of the Roman Catholic Church so that we may live our faith and follow in the footsteps of Jesus.
2022/2023 Religious Education Program
Religious Education Classes for 2022/23 have begun. All classes are being held in-person. If you have not yet registered, please print out the registration form and submit to the parish office.
***PLEASE NOTE:  The time for Religious Education classes in Terryville has been changed to Sunday from 10-11:00 AM for ALL grades.
St. Maximilian Kolbe Religious Education Registration Form 2022-2023
RE calendar 2022-23 Page 1
RE calendar 2022 -23 Page 2
2022-23 Religious Education Program – Terryville Program
Confirmation Program 2022-23 Schedule – Terryville Program
Lucy Santopietro, DRE, Thomaston  lucy-dre@stmkp.org
Joanne Auburn, DRE, Terryville        joanne-dre@stmkp.org