Welcome to Saint Maximilian Kolbe Parish
Our History
In 2017, the parishes of Saint Thomas, Immaculate Conception, and Saint Casimir, were merged by decree into the Parish of Saint Maximilian Kolbe. Since that time, these three churches have worked together to build a strong parish of believers in Jesus Christ while respecting the unique identity, rituals, traditions, and roots of each parish.
Parishes ordered by date of creation:
Saint Thomas Church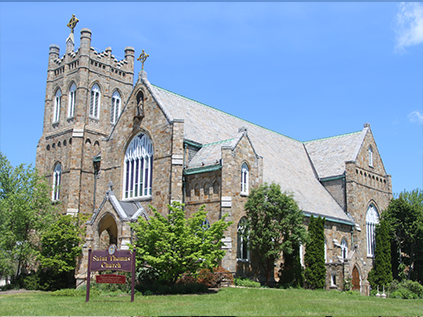 On December 24, 1868 incorporation papers were signed for the new parish and in 1871 the first resident Pastor, Father Eugene Gaffney was appointed.  The foundation for a church had been constructed and Father Gaffney finished the original church which was located on the east slope of a hill convenient to the Railroad Station.  Bishop Galberry of the Hartford Diocese dedicated the Church on October 15, 1876.  On November 30, 1884, Father Michael J. McGivney was appointed the second resident Pastor of Saint Thomas. By the turn of the century, Father Daly and his successor Father Timothy O'Brien realized the need for a new and larger Church. Land was purchased at the intersection of East Main and North Main Streets in the center of Thomaston. In 1905 under Father John H. Walsh's direction, construction of the new church began. The cornerstone was laid amid a joyous community celebration on May 6, 1906 and dedicated on May 31, 1908. The Church structure still serves our Parish Family.
Immaculate Conception Church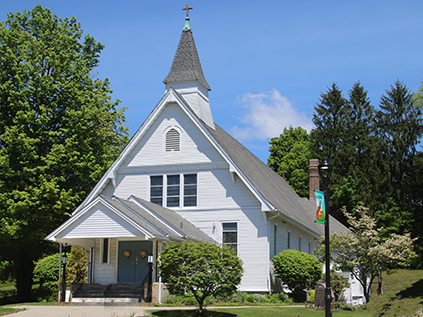 At the Eagle Street home of Philip Ryan, Father Michael O'Neil of Waterbury offered the first Mass in Terryville in early 1848. Philip Ryan purchased property on South Main Street in 1858 for a Catholic cemetery named for St. John and donated it for Catholic use. By the mid 19th century, Mass was being offered for all immigrants by visiting priests in private homes or at the Terryville Institute, later used as a public school. Terryville's circuit clerics were from surrounding areas such as New Haven, Waterbury, Collinsville, New Britain, Bristol, Watertown and Thomaston. Under Thomaston pastors, a mission church was built in 1882. Immaculate Conception Church opened for Mass on November 5, 1882. On October 14, 1883, Bishop Lawrence S. McMahon dedicated the church. In the late 1880's Knights of Columbus founder Father Michael J. McGivney, then in Thomaston, tended the mission. In 1900 Father John Neale was named first resident pastor as the Immaculate Conception mission was made a parish. Father John H. Sheehan purchased another parish cemetery on North Main Street named for St. Mary.
Saint Casimir Church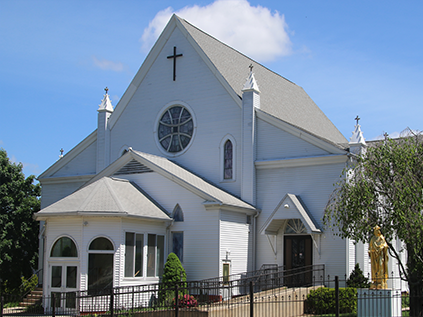 Polish Immigrants in Terryville increased sharply in number between 1891 and 1900. At first, the immigrants worshiped at Immaculate Conception. Since there was no Polish priest there, however, a movement grew to form a Polish parish. In December 1900, the St. Casimir Society was formed, a Polish fraternal organization that met in the basement of Immaculate Conception. The St. Casimir Society purchased land at 15 Allen Street. By March 1906, Father Joseph Raniszewski was assigned to Terryville with the help of the Apostolic Delegate. This pioneer pastor first offered Mass at Immaculate Conception Church and later in rented halls. Church construction began, and Bishop Tierney consecrated St. Casimir Church on September 1, 1906.
Today, Saint Maximilian Kolbe Parish Community strives to bring the presence and love of Christ to its members and to the surrounding communities through liturgical services, education programs and social ministry. We hope to provide a warm and welcoming atmosphere for both it's members and visitors.