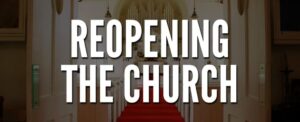 Information Regarding the Opening of Churches for Public Worship
Sunday Mass Obligation – Archbishop Blair has dispensed from the obligation of attending Mass every Catholic in the Archdiocese of Hartford, and unless otherwise announced, this dispensation will continue through Sunday, September 6th.
When Mass Will Resume – As of Monday, June 8th, parishes can reopen for the public celebration of weekday Masses only.  A date has not been determined for the resuming of Sunday Mass.
Who Can Come – In this first stage of resuming public worship, no more than a total of fifty (50) socially distanced persons may be present at a given Mass in keeping with the limitations currently set by the civil authorities.
Who Shouldn't Come – The elderly, those with pre-existing conditions, those who are fearful and anxious, and those who are taking care of a sick or home-bound person need not be concerned if they miss Mass as the dispensation from the Sunday obligation has been extended.
What to Bring/Social Distancing – Unless exempt, those attending Mass are required to wear masks or face coverings and are asked to bring hand sanitizer for use during the liturgy.  Attendees are required to keep proper social distancing while in church.  This will require everyone to remain 6 feet apart from anyone who is not a member of their household.
Confession – As of June 8th the ban on any publicly scheduled confessions is also lifted.  This is done, however, at the discretion of the pastor, with the sacrament of penance only to be resumed when proper procedures are in place.
Waiting Until Prepared – It is the task of each pastor to establish a set of procedures to safely implement the required guidelines in order to resume public liturgies and sacraments in his parish.  If a parish cannot offer Mass safely, they should not offer Mass at the current time.