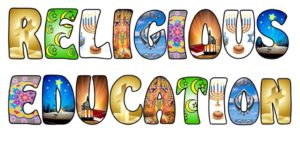 UPDATED INFORMATION 
Religious Education classes will not be resuming this school year.  If students have their workbooks at home, please have them complete it before they return in September for the new school year.
Also, have them continue to say their prayers, especially the Our Father, Hail Mary, Glory Be, and the Act of Contrition.  Please remember to continue praying for all to be safe and well. 
The Sacraments First Reconciliation and First Holy Communion have been postponed to a date still to be determined.
The Confirmation Retreat and the Sacrament of Confirmation have  been postponed to a date still to be determined.
Those families whose children are to make their sacraments will be notified of the dates once a decision has been made by the Archdiocese of Hartford and Father Crowley.
Our churches will be open during the day from 9 am – 3 pm for private prayer.  Please practice safe social distancing. 
Please join Father Crowley on Sunday's for Mass online at SMKP.org and Facebook.