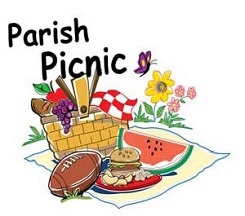 Save the Date – The Saint Maximilian Kolbe Parish Family Fun Picnic, will be held on Sunday, September 15th from 11 AM to 4:30 PM at the Terryville Fairgrounds.
Please join us at our next Picnic Planning meeting on Thursday, August 29th at 6:30 PM in St. Casimir's Church Hall or contact Katrina at StMKP.Picnic@gmail.com
Basket Donations for Picnic – A Basket Raffle will be held at the picnic. To help make this a success, organizations and parishioners are being asked to prepare and donate baskets. Donations of smaller items and gift cards are also needed and will be used as raffle prizes or as awards for the various family games being planned. The Rosary Society and Women's Guild will hold a kitchen and a laundry gift basket raffle. Donations of kitchen and laundry items may be left in the donation basket set up in the entry of each church. Donations may also be dropped off at the parish office until September 12th or at the Terryville Fairgrounds on the day of the picnic between 9 AM –1 PM.
Picnic Volunteers Needed – Please consider donating a couple of hours of your time to help at the parish picnic. Parishioners can sign up for various committees and time intervals by calling the office or you may email Katrina at the above email.
Pierogi Workshops – Pierogi workshops will be held on September 3rd and 10th, from 9 AM – 4 PM and September 8th from 10 AM – 4 PM at The Lyceum. Beginners are welcome and, even if you can devote a few hours on any given day, please come and help. Pierogi will be served at the parish picnic as well as fried dough, hamburgers, hot dogs, Kelly dogs, potato pancakes, French fries, chicken nuggets and ice cream.